External Porcelain Tile Paving - Online Shop
Porcelain is a type of ceramic that is made using specific types of fine clay, with the addition of very fine-ground and graded sand plus quantities of the mineral feldspar also added into the mixture. This mixture is sieved and combined in a powerful compulsory shear mixing plant, to produce a uniquely smooth and homogeneous base mix with a uniform consistence. This mix can be adapted and used through complex pressure moulding and extrusion processes to make many different things from he traditional Chinese and once hand-made, top quality, almost see through, porcelain china such as the best tea services, through porcelain floor and wall tiles, to high-tech electrically insulated porcelain components for many specialist applications in power production and transmission industries. Porcelain components and surfaces are also produced all around the world now for countless applications in many different production and processing industries, from where ultra-smooth, dense, hygienic, insulated and temperature resistant elements or surfaces are required.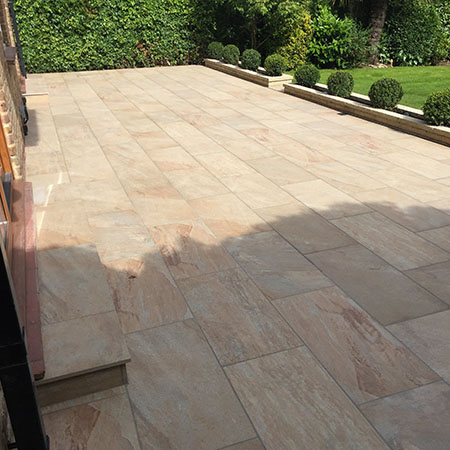 Porcelain tiles are produced by moulding this specially produced base mixture over a cheaper conventional ceramic base mix, and these layers are then fired together (heated quickly) at higher temperatures (~1400°C) than are generally used for ceramics (~1150°C). This results in porcelain ceramic tiles that are far denser, less absorbent and more abrasion resistant than normal ceramics. These well-known positive characteristics can now be combined with recent technical advances that make it possible to virtually print any colours and images into the porcelain surfaces, for unlimited design effects from crazy colours, to imitating natural wood, stone, or pretty much anything else you can imagine! As a result, the use of porcelain tiles is growing for many surfacing applications and at a tremendous rate all over the UK, including for external paving.
External grade porcelain tile paving as a fast growing trend, is also rising in popularity due to the almost unlimited range of porcelain paving unit shapes and sizes, making many different designs possible, as well as their virtually unlimited colours e.g. from porcelain tiles closely imitating natural stone, through mosaics, to various timber planks and even bamboo, in fact the appearance of almost any other surfacing and materials, basically whatever you and your Architect can imagine!
So external porcelain tile paving is certainly a great addition to modern hard landscaping options, but just like with all other types of paving, we should be aware and take note of the characteristics and limitations, especially the key criteria of suitable jointing for external porcelain tiles, which we will discuss in more detail below. Some of the key criteria for customers selecting external porcelain tile paving on recent domestic projects that we have been involved with, have initially included one or more of the following statements.
We are using porcelain tiles for our paving project because:
red wine spills will not stain it!
BBQ fats, oils and grease will not mark it!
bird droppings can just be wiped off!
green algae, moss and other growths will just wipe-off!
porcelain paving does not need sealing....
Really, we say – Good luck with all of that …………!
No seriously, much of this is / can in fact be true, but not always, and externally porcelain tile surfaces will always need maintaining. Therefore, we often have to caution on these assumptions and say that this is really a matter of scale, or relative ease of staining and/or cleaning the surfaces in different situations and exposures. For sure porcelain surfaces are going to resist staining and be easier to clean than porous sandstone for example, but maybe only comparable with properly sealed sanstone paving. This is always going to be a question of degree, and all external surfaces will require regular if not frequent cleaning, and all may require some form of protection at sometimes, depending on their exposure.
Unfortunately, some people only find this out when we are brought in to advise on what has happened to stain their new porcelain tiles, and why the attractive tile surfaces seem to need frequent cleaning! Porcelain tile paving is in reality, much like any other external hard landscaping surfaces and all of these needed to be managed andan appropriate maintenance anregime established to keep the surfaces in prime condition. Fortunately, NCC have the experience, expertise and indeed, the materials to help you do this successfully.
On the Paving Cleaning and Paving Sealing pages of this website there is a lot more information on products developed specifically to clean and protect porcelain tile surfaces. These products are also available in the Online Shop and include:
NCC Porclain Cleaner – for regular Aftercare
NCC Porcelain Intensive Cleaner – for as it says on the tin – intensive cleaning
NCC Porcelain Protector – again as it says on the tin – designed to protect the surfaces and increase resistance to staining and make cleaning easier.
We must also say that porcelain is a fantastic addition to the landscapers options; however, there are also some other aspects of performance and the claims being made for external porcelain tiles that should also be fully considered and understood just as carefully, such as:
- Porcelain is anti-slip / slip resistant ……?
Well yes it can be, especially when tested to the European DRY INTERNAL FLOOR Test procedures that are widely used, primarily as they are used for all floor coverings, including tiles indoors! Results of from R-11 to R-14 are frequently claimed and used to infer excellent slip resistance / anti-slip properties. BUT the Test Standard very clearly states that these Slip Resistance Tests and their results, DO NOT apply Externally and NOT to wet surfaces, or surfaces with any oils and grease spillages or other contaminants under foot!!! So please take care – All smooth paving surfaces can be slippery when wet!
- Porcelain does not need jet washing / water jet cleaning……?
Well maybe, BUT ONLY if you keep it clean and treat the surfaces like you do your indoor floors, where you clear-up any spillages immediately. Plus, you ensure that the surfaces are swept and mopped clean at least once a week or so, according to use, and that this continues almost EVERY WEEK of the year and NOT JUST IN SUMMER! - Otherwise we can confirm that you will definitely find it necessary to clean and generally jet wash your new porcelain tile paved surfaces regularly if not frequently and at least several times every year to keep it clean and in good condition – Looking good! This will certainly be the case for the start & end of the season, as well as after any days of heavy use!
Important Note: As YOU WILL most definitely need to jet wash your porcelain surfaces, please do be sure to use a joint sealant that can also take this treatment – as mentioned elsewhere on this website, NONE OF THE 1-Part vacuum packed, bag in a tub, brush in compounds are suitable as they do not resist frequent jet-washing. They may be cheap and very easy to apply, but they will cause you problems sooner or later!
Once again there is a lot of useful advice on the UK's only fully independent source of natural stone and concrete paving information, including information on use of external porcelain paving on www.pavingexpert.com/porcelain-paving. (Note: beware of similarly named imitations of this superb trade advice site that are just merchants trying to cashin on the pavingexpert name!)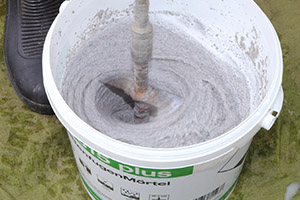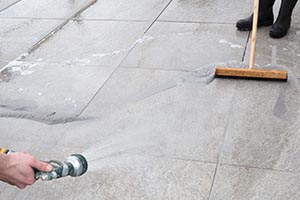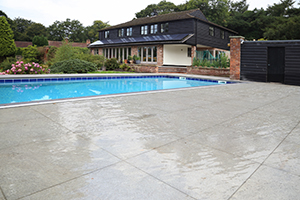 Jointing / grouting external porcelain tile paving: The key to the successful jointing of external porcelain paving is to use an equally high-performance jointing material, which is initially easy to apply and importantly at the installation stage, to remove and clean residual jointing material from the porcelain surfaces. For example, as mentioned above, ALL the 1-component brush-in, vacuum packed, bag-in-a-pail type jointing compounds are just not suitable. They may go in easily, but they will also come out easily within a short time with regular cleaning and they will stain and discolour themselves, they will last just a few years, even if left alone! – Why on earth would you put a cheap DIY jointing compound in between expensive and professionally installed porcelain paving….Madness to us!
Traditionally, cement based tile grouting was and is used extensivle for porcelain tiles on internal walls and floors which is fine, but beware for external porcelain paving, as not many of these so-called, cement or hybrid cement (means a bit of plasticiser polymer added) types of tile grouts are sufficiently durable for long term external exposure to weathering and can also stain easily from the typical spillages in outside areas. These are not the same as cement based paving jointing systems used for stone paving, primarily the difference is a lot less cement and a lot more cheap filler, made smooth and flowable with plasticizing polymers. Great inside, but not outside. There is also the issue that in any event, dense substrates like porcelain has only limited adhesion to cement mortars and so shrinkage cracking and debonding due to normal thermal movement is likely, particularly at the top of the joints – the last place you want any cracks!
The suggestion that porcelain tile grouts must be totally impermeable when laid on full concrete beds rather than consolidated granite chippings as prevails in Italy for example, is also a bit of a 'red herring'. This is explained in detail by an excellent article by the paving expert Tony McCormack at www.pavingexpert.com In principle this is a red herring and irrelevant because like all external paving, the porcelain tiles should be laid to a recognised falls, which is in order to ensure water run-off into adequate surface drainage provided, plus the now established UK method of laying porcelain with an SBR or proprietary bonding slurry on the backside, directly into a full wet mortar bed, also prevents any possible theoretical underflow. In any event there is absolutely no evidence of any sub surface freeze-thaw damage to paved surfaces anywhere throughout the vast majority of the UK. This is a none issue, the only issue with very permeable joints such as the 1-part vacuum packed types again is that they will quickly discolour and allow green growths to reside and this cannot be jet washed out – another reason to avoid them!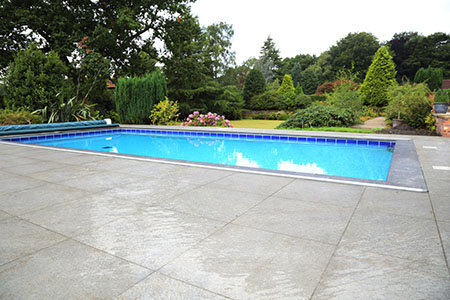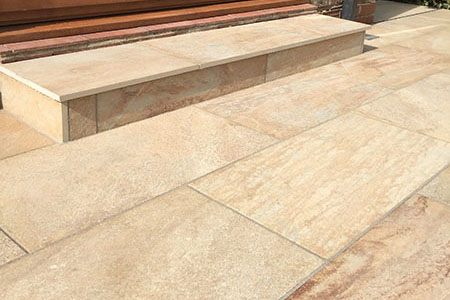 The best solution for good quality, high performance, external grade porcelain paving jointing in our experience, is not an internal tile grout, but a high performance, 2-part, epoxy resin bound, graded fine alluvial sand based jointing system. This unique technical solution is provided by using the most appropriate GftK Paving Joint Mortar according to the porcelain tile joint widths i.e. 2-part, Epoxy resin based, GftK vdw 815+ or GftK vdw 850+, for joint widths from >3mm or >5mm respectively, which are undoubtedly the best we have seen for durable external porcelain tile jointing / pointing.
This materials technology, and these specific high-performance paving jointing products are designed to be extremely durable and resistant for the long-term, just like good external porcelain tile paving. As mentioned earlier with regard to natural stone paving jointing, why would you want to invest in expensive, high performance, top of the range, external porcelain tiles – and then point them with an internal bathroom grout, or a one-part jointing compound that is primarily stocked by merchants because it is cheap and easy to use, or even with a cement based grout that is going to be difficult to clean from day 1, and will have inadequate flexural and tensile properties in service, plus cement has limited adhesion to dense surfaces, such as porcelain.....so why would you do it......?
This is in addition to ALL these typically commonplace jointing / pointing materials being very difficult to clean-off and remove from the finished porcelain surfaces – Why would you ever even want to do that….?!?
Call NCC Streetscape and, use the GftK vdw 815+ or GftK vdw 850+ solutions to get it right first time - and for the long term!
For more advice or assistance with your specific porcelain tile paving project including selecting the right jointing product, the estimated consumption and the installation, please call 01257 266696 for FREE Expert Advice.