Patios, Terraces and Garden Pathways - Online Shop
Paving requirements are effectively the same for patios, terraces and garden pathways etc., basically these all refer to paved areas that are primarily designed for pedestrian use only and primarily for leisure purposes at home in domestic situations. This means that the necessary substructure and support may not need to be so substantial and generally there will be no vehicular loads imposed. However, if there are to be even occasional vehicle movements across any domestic patios, pathways or terraces, then it is sensible to ensure that these are designed to accommodate these loads and increased paving unit thicknesses should be considered - it only takes one excess load to cause damage that is always expensive to repair, and after repairs your attractive paving never looks the same again.
Patio Jointing Mortars
Patio Jointing, which is also called Patio Pointing and Patio Grouting, plus patio repointing, is straight forward and fast when you use the GftK Paving Jointing Mortars from NCC Streetscape, which are specifically designed for the application and long-term performance in Patio Jointing and Grouting.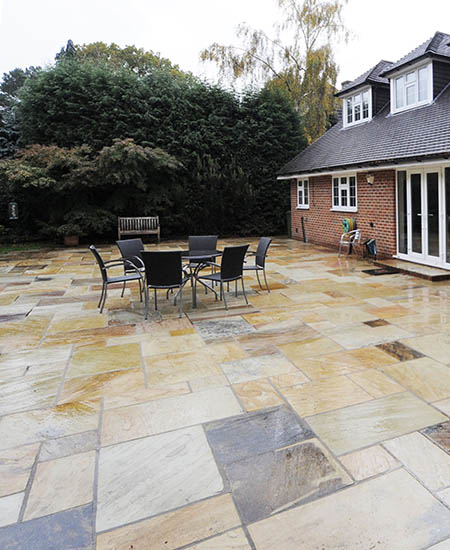 Please see our dedicated Paving Jointing Products page with our Paving Jointing Mortar Selection Guide to see which of the advanced vdw mortars is ideal for your Patio project. You can then order it easily here from this website in our secure Online-Shop.
At NCC Streetscape our entry level for DIY Patio pointing and garden pathway paving jointing is a 1-component, vacuum packed sand compound, which is supplied ready to use, just open the bag in the pail and pour onto the pre-dampened paving surfaces, where it is wet-slurry applied into the joints, then it self-compacts without further finishing, except at the paved area edges etc. The product cures simply by evaporation of the water content, leaving a head but slightly flexible compound to fill and seal the joints. HOWEVER, we will always caution people that any 1-component paving joint compound will only give a few years use from 2/3 upwards according to exposure, but primarily these compounds will not stand-up to frequent jet-washing and have limited resistance to staining, freeze-thaw, boring insects and weed growth. Therefore, we will generally recommend the far more durable, far higher performance 2-component paving jointing mortars from GftK. These are primarily designed to be used by professionals as they require special mixing paddles and continuously wet-slurry application sequences. You will not find these materials in the average garden centre or builders merchant for this reason, but we supply direct to quality stone distributors and paving contractors all around the UK, plus competent DIY'ers can also buy these 'stat-of-the-Art' materials and the equipment here in our Online Shop.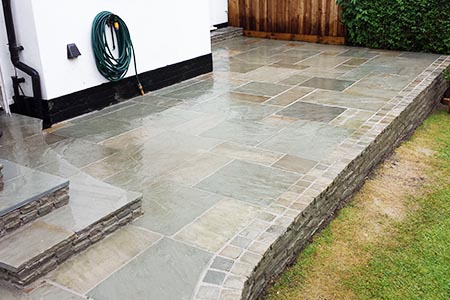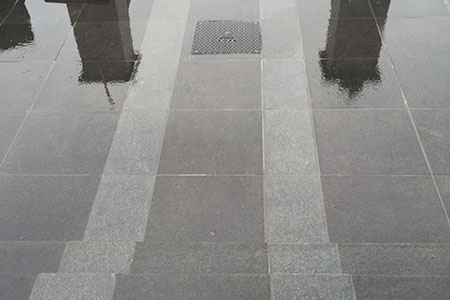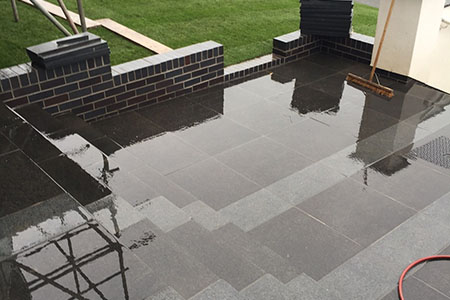 Although the structural and dynamic loadings maybe lower, there can be significant levels of exposure to staining by oils and greases, grass cuttings and leaves that can also leave horrible marks if the paving is not protected and / suitably protected. Therefore, in these areas it is also important to understand the possibilities and most effective solutions for Paving Cleaning and Paving Sealing.
Patio Cleaners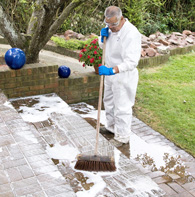 Patio Cleaners from NCC Streetscape include a full range of safe, effective and non-toxic chemical cleaning products for patio paving cleaning works. The range includes general purpose patio cleaning products for all different types of stone and block paving. It also includes special products for removing dirt and grime from traffic, algae and other green growths, or to remove cement or other staining from paved surfaces, as is frequently necessary following the use of traditional pointing or pre-batched cement based jointing mortars instead of the advanced mortars from GftK! (Cement based patio jointing is not recommended by NCC Streetscape for several reasons – including this one! Please see our dedicated Paving Jointing Products page for more information on this subject).
Please visit our dedicated Paving Cleaners page and the Paving Cleaner Selection Guide to see which of the advanced patio paving cleaning products is ideal for your Patio project. You can then order it easily from this website - here in our secure Online-Shop
Patio Sealers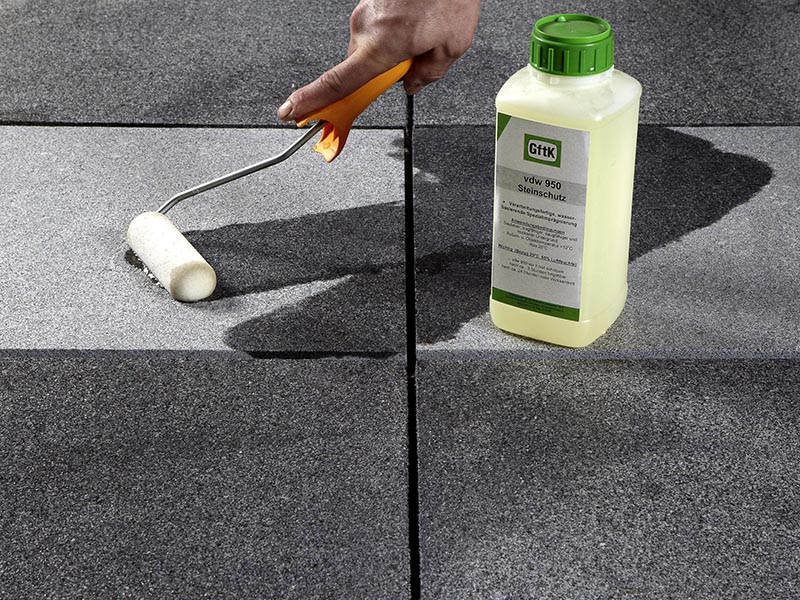 Patio Sealers are also provided by NCC Streetscape and we supply a complete range of patio sealers that includes general purpose patio sealers. Plus the range also includes special patio sealers for use as natural stone patio sealers, Indian Sandstone paving sealers, concrete block sealers and the latest invisible but protective impregnating hydrophobic patio sealers for use on all types of patios, domestic pathways or terraces. All designed to reduce water penetration and frost damage, plus to reduce staining from spillages and organic debris (leaves and grass cuttings etc.), wherever required to provide this additional protection and durability.
Patio sealers are not the same as paving Joint Stabilisers. If you are not using a hardening patio jointing material (such as the excellent vdw range of GftK Patio Jointing Mortars) and you require your patio sealer to provide a significant contribution to stabilising block paving jointing sand, then you should use a specific Jointing Sand Stabilising product – Please refer to the dedicated Paving Jointing Sand Stabilisers page on this website.
Please visit our dedicated Patio Sealers page and the Paving Sealers Selection Guide to see which of the advanced patio paving cleaning products is ideal for your Patio project. You can then order it easily from this website - here in our secure Online-Shop.
Patios, Terraces and Garden Pathways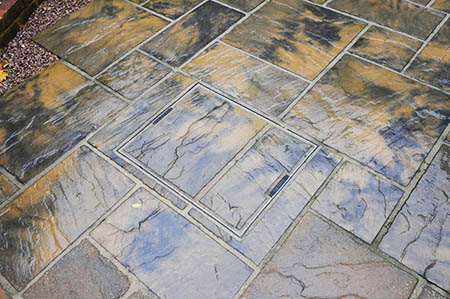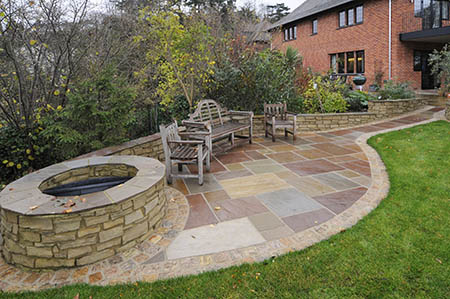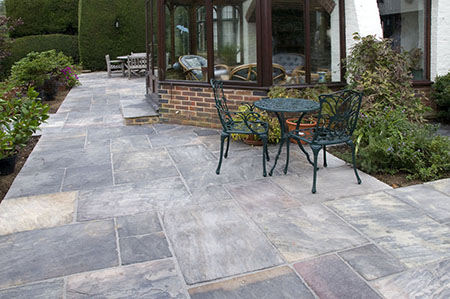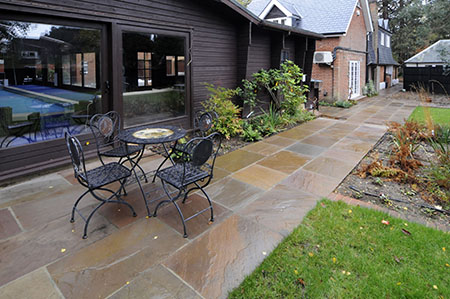 For Patios, Terraces and Garden Pathways, NCC Streetscape supply products to assist you to make the best of every patio and garden paving job, whether this is as a one-off DIY project, or in support of our professional Paving and Landscaping Contractor customers. We also have special solutions and the best products to use when you need to refresh and refurbish existing natural stone patios and other paved patio, terrace and garden areas.
Patios and Garden Paths come in all designs shapes and sizes today, as do the joints between the different paving elements; these can include all types of natural stone setts or slabs and concrete blocks as individual square or oblong setts, rounded cobbles, typical blocks, random slabs or flags and many specially formed sections are also available.
NCC Streetscape has the ideal jointing and pointing mortar or grout to make your job a success, plus many other specialist materials as ancillary paving and hard landscaping products to assist you.
For detailed information on specific Paving Jointing , Paving Cleaners, Paving Sealers or Jointing Sand Stabilisers and many other Additional Paving Products, together with Case Studies or to Buy Online, please follow the relevant links in the text, or the tabs at the top and on the left of this page.
Alternatively please call for specific advice and assistance on your patio paving project whatever your requirements.
For more advice or assistance with your specific paving project, please call 01257 266696 for FREE Expert Advice during normal office hours, or you can email us at any time to: sales@nccstreetscape.co.uk and we will get back to you just as soon as we can. Thank you.