Resin Bound Surfacing
Resin Bound Surfacing for Paving and Hard Landscaping works can provide useful solutions with attractive designs and durable surfacing, for many different hard landscaping areas, including pathways, driveways and almost unlimited bespoke design features. A particular benefit of resin bound surfacing is that it allows almost total freedom of design in terms of shape and colour, with the capability to even include special images such as individuals creative artwork or company logos for example, and in other situations, for easy permanent delineation marking on area designations wherever appropriate. By using our light and colour fast Resin Bound mortars over a consolidated base layer, the areas can be enhanced and made to match or contrast with the surrounding paving or other hard landscaping surfaces, according to the Architect or Designer's requirements.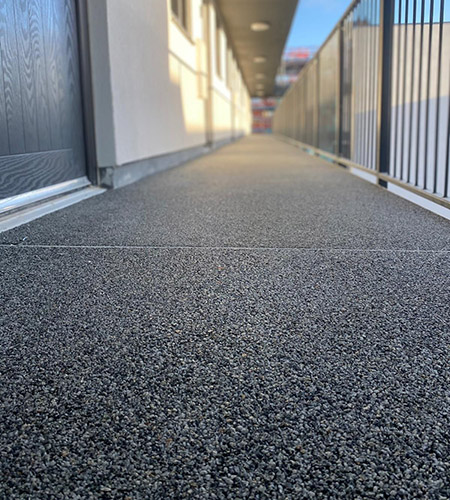 Resin Bound Surfacing Materials
There are basically two types of these resin bound systems supplied – those with a factory graded and pre-bagged aggregate mix included with the resin binder in a totally pre-batched unit, or the resin binder can be supplied to be mixed with a defined quantity of specially prepared kiln dried aggregates or blends of aggregate and other materials such as coloured glass or pebbles for the creation of special effects and design solutions.
Generally extensive global research by Addagrip has shown that the best resin binders for externally exposed Resin Bound Surfacing are two-component Polyurethane resin-based materials, particularly those selected for the advanced Addagrip range that produce, the most durable systems. These are predominantly solvent free, light fast, non-yellowing, tough and semi-flexible aliphatic polyurethane resin based materials, which have excellent adhesion to most natural and synthetic aggregates, concrete, mortar and even to asphaltic and bituminous surfaces.
Resin Bound Surfacing Application
The resin bound surfacing is installed on site and applied directly onto the firmly compacted soil, at a nominal thickness of 100mm. This build-up consists of a minimum 60mm base layer that is produced with compacted sand and gravel chippings, or an MOT type-1 sub-base, which is followed by a minimum 30mm of the polyurethane resin binder and aggregate mix.
The edges are normally produced finished with a hard-paved outer edging or other rigid material. The resin bound top layer is produced by first mixing the two pre-batched components of the CP 22 resin binder with dust-free graded kiln-dried aggregates, or other selected and approved materials such as graded coloured pebbles, or glass for example, in the colours of your choice for the area.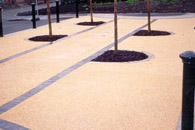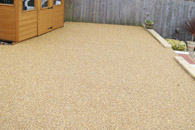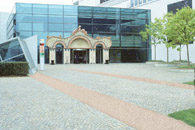 Resin Bound Surfacing Design & Contractors
Resin Bound surfacing system allows owners and their Architects or Landscape Designers almost unlimited design possibilities in terms of paving colour, shape, form and texture, providing a permeable surface that is suitable for pedestrians and also light vehicular traffic. Normally resin bound surfacing should only be installed by trained and experienced specialist contractors On request we can provide you with the names of these specialists in the installation of resin bound surfacing from your region of the UK, from our national network of professional paving and landscaping contractor customers.
For FREE expert advice and assistance on your specific Resin Bound Surfacing project, please call 01257 266 696