Paving Cleaning Solutions - Online Shop
A range of specialist chemical products are provided by NCC Streetscape for increasing the effectiveness of block paving and natural stone cleaning, by hand scrubbing and/or by pressure jet washing. The most effective solution for ingrained dirt is usually a combination of all 3 (chemical solution, hand scrubbing/ jet washing). These are designed to be as safe as possible to use on domestic paved areas such as patios and driveways, as well as on commercial developments and public areas in town centres, and for use on specific or many different types of hard landscaping. The most widely used paving cleaning products and systems are also now available to buy in our Online Shop.
These paving cleaners include solutions for removing algae and other green growths, general dirt and grime build-up, and/or to remove cement-based grout and mortar spillages, as well as cleaning solutions to remove oil and grease and other specific stains. NCC Streetscape can provide the right advice and paving cleaning solutions to remove most types of dirt and staining from most kinds of natural stone paving, concrete block paving and most other hard landscaping surfaces.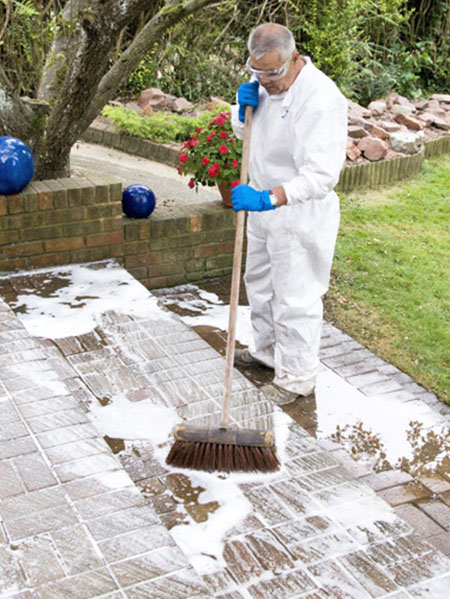 As previously mentioned, there are different grades and concentrations of different chemical paving cleaners and many are designed to be used at different dilutions according to the nature, location and level of contamination and the level of cleaning required, plus equally importantly, the type of paved surface and the sensitivity of this and any adjacent surfaces and areas. – For example, it will always be necessary to take great care handling and using any chemical solutions and particularly near any areas of delicate planting, or other sensitive surfaces. If your requirements for paving cleaning or paving stain removal are clear, then you can use the Paving Cleaner Selection Guide on the right of this page to find the right product for your project and then order directly by following this link to our Online Shop.
Alternatively for FREE expert advice and assistance on your specific paving cleaning problem, or how to deal with difficult paving staining or cleaning sensitive natural stone surfaces, such as some limestone paving or sandstone paving etc., then please call one of our specialist team during normal office hours on 01257 266696, or you can email us at any time to technical@nccstreetscape.co.uk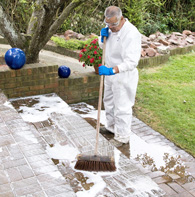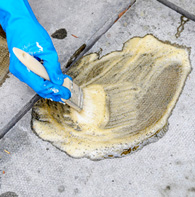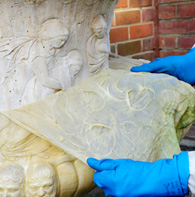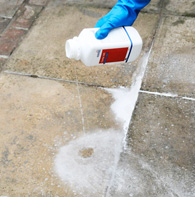 Note:- It can be very helpful for us to help you, if we can have a picture of your paving cleaning problem and any relevant details, so that the requirements are clear as possible - We will then get back to you with the most appropriate Paving Cleaning solution, just as soon as we can.
Paving Cleaning Products
NCC Green Growths Remover
NCC Grime Remover - Heavy Duty
Remmers Impregnation BFA
Paving Cleaning Solutions - Important Notes:
It is always necessary to read the respective manufacturers Product Data Sheet (PDS) for any chemical cleaning products carefully before use and to observe all of the precautions recommended in their Material Safety Data Sheets (MSDS) – These are all available to view or download in PDF format from our online shop.
Not every Paving Cleaning product can be used on every type of Concrete Block or Natural Stone paved surface, so it is always essential to read the specific recommendations and any limitations on the individual Product Data Sheets (PDS). We also strongly suggest that a test is carried out in an inconspicuous area for any sensitive surfaces etc.
Once again for FREE expert advice and assistance on your specific paving cleaning problem, or how to deal with difficult paving staining or cleaning the typically sensitive natural stone surfaces, such as some limestone and sandstone paving etc., you can call us on 01257 266696.